News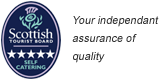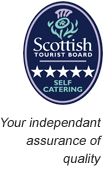 ---
All the latest news about Rickla and Orkney
---
We have a new version of our Availability Calendar. This latest version clarifies both the dates that are available and also which days your reservation may commence.
12 March 2018
---
General Data Protection Regulations

Our website now complies with the requirements of the EU General Data Protection Regulations (GDPR) and relevant United Kingdom legislation regarding Privacy and use of Cookies.

The visitor will be prompted on first visit to Accept or Decline the use of cookies on our site.

We have also provided a Privacy Policy page to explain our use of cookies and how we handle any information submitted by you via our Booking, Enquiry and Secure Message forms.
20 June 2017
---
Our website is now rendered entirely using the https: protocol which ensures no data can be intercepted between your browser and our server. Whenever you visit our site check for the 'padlock' icon in the URL bar and check the domain name displayed is rickla.com or rickla.co.uk as you expect, to be sure it us.
6 May 2017
---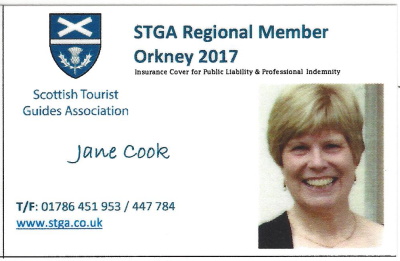 Jane has now qualified as a 'Green Badge' Tourist Guide, accredited by the Scottish Tourist Guide Association. She will be delighted to join you as a 'step-on' guide travelling in your vehicle or escorting you on foot in Stromness or Kirkwall. You can book one of a number of pre-designed half or full day tours or have Jane design your own bespoke experience, tailored to your interests and pace.
For more information check her services at www.bespokeorkney.com or www.facebook.com/bespokeorkney.
14th March 2017
---

Visit Scotland inspection confirms Rickla's 5 star rating for Self Catering Accommodation for 2017/18.
We have also qualified to become members of the VisitScotland Information Partner programme thanks to all the information and advice we make available to our guests about Orkney, what to see and do.
11 January 2017
---
The bedrooms in both Oystercatcher and Puffin Suites now have new, larger capacity, designer radiators to complement the revised room styling and add to the comfort of our guests in low season.
May 2016
Guest Feedback
---
Just had some lovely feedback from our guests last week, who were with us for the second time. This from our visitors' book...
"Superlatives apart, and there are many, Rickla and its beautiful environment has once again captured our souls. The silence of an early morning and the stillness of a gentle, sunlit evening should be listened to over and over again as you let the chaotic world of "Down South" fall away from your mind. That's why we keep coming back. Not for the staggering archaeology or the rest of man's footprints but for the place. Thank you, Jane and Philip, for choosing Rickla and for allowing us to be its guests this week once more."
20 March 2015
---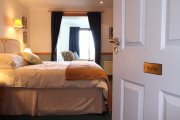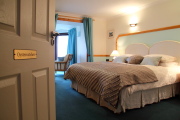 For 2015, our two bedroom suites are now themed as Oystercatcher and Puffin suites.
Themed pictures and crafts available from local artisans are displayed in each room and throughout the property.
18th March 2015
---

Visit Scotland inspection confirms Rickla's 5 star rating for Self Catering Accommodation for 2015/16.
Future inspections by Visit Scotland will be on a two yearly cycle.
Let the season commence. We look forward to welcoming you to Rickla in 2015.
02 March 2015
---
Our Rickla Facebook Page now has a direct Book Now link to the availability/booking page on our website.
Our Facebook page contains regular posts about Orkney, its people, visitor attractions and history. You can also browse our galleries of photographs, from each visitor attraction, to help you plan what to see and do during your stay.
22 February 2015
---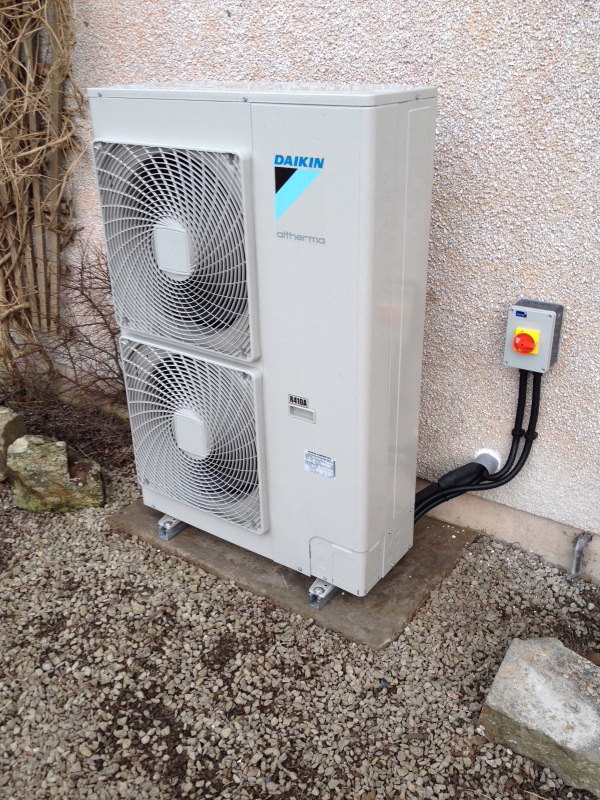 During the quiet times over winter each year we undertake a programme of renewals and improvements. This year this has included ...
Installation of an Air Source Heat Pump, replacing an Oil Fired Boiler to reduce our Carbon Footprint
Decoration of Suite 1
Decoration of Suite 2 including new curtains for both bedroom and sitting room
Update of the website with new photographs/text
... as well as the usual spring clean ahead of the arrival of our first guests for the year.
13 June 2014
---
This Rickla News page now includes a feed of articles from Rickla's Facebook page.
The Facebook page provides information about Orkney Visitor attractions and events throughout the year. Guests who are Facebook users are encouraged to 'like' the Facebook page to receive regular updates of what is going on in Orkney both before and after their stay with us.
If you do not wish to join Facebook then you can still enjoy all our posts here at rickla.com.
01 February 2014
---

Our Rickla Facebook page now contains pictures and links for places to visit and things to see and do in Orkney. We will be making regular contributions to the page throughout the season. Guests, both old and new, are welcome to call in and see what we have posted. It will slowly build into a complete guest guide to the islands.
Find us at www.facebook.com/rickla.orkney or click the Facebook button wherever you find it on our site. If you have your own facebook account then do like our page to receive our latest information onto your News Feed as we publish each new item. You dont need to join Facebook to enjoy our pages, you can simply follow the links.
There is also a Guest Picture Gallery for images taken during your stay. Please send any pictures for inclusion to info@rickla.com with a statement authorising their use. All images used will display "Courtesy of .... your copyright" statement.
01 December 2013
---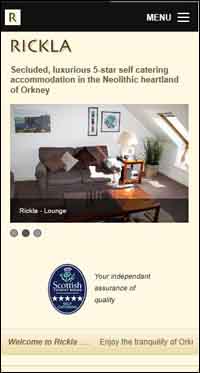 A new rickla.com website design has launched for the 2014 season.
The new site adapts to provide an enhanced experience on mobile phone and tablet displays as well as a fresh new look on your desktop PC. (seen left as displayed on an iPhone 5)
If you spot any bugs then please report to info@rickla.com.
Is there anything else you would like to see? Let us know that too. There is always room for improvement.
8th August 2013
---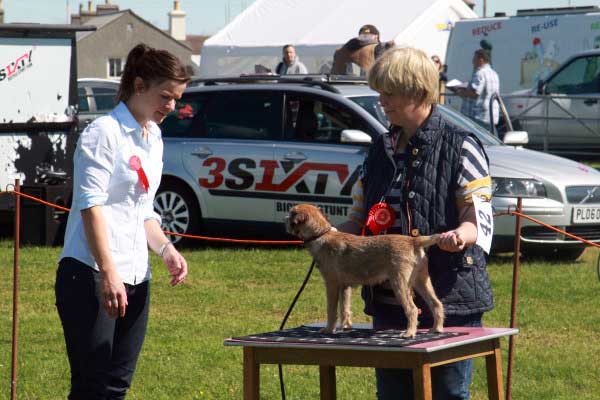 Jane with Rory, our Border Terrier, winning the Cubbieroobu Trophy for Best Terrier in Show at the West Mainland Show 2013.
27th March 2013
---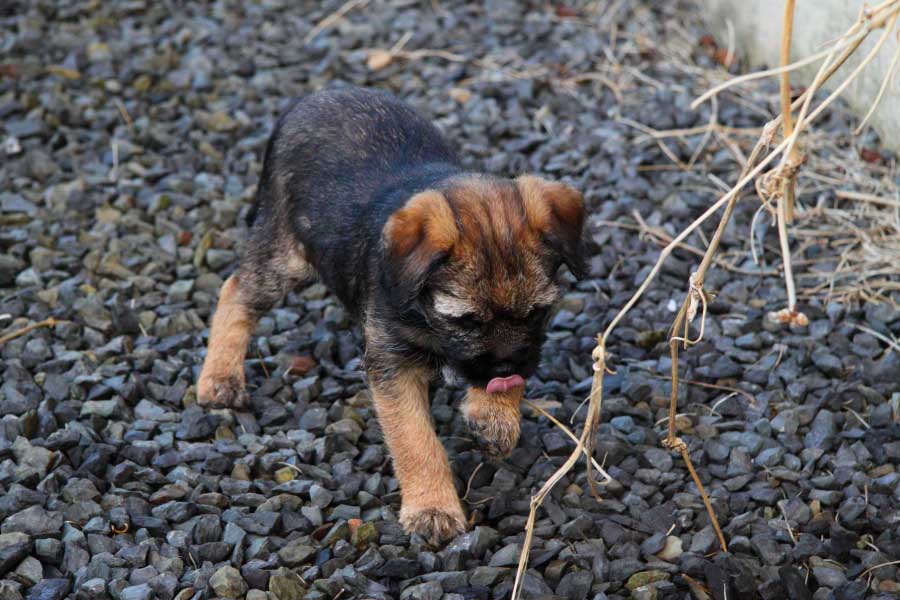 Welcome to the latest addition to the family at Rickla.
Evie is a nine week old Border Terrier bitch.
She is quickly settling in with her older brother Rory and sister Fern.
27th January 2012
---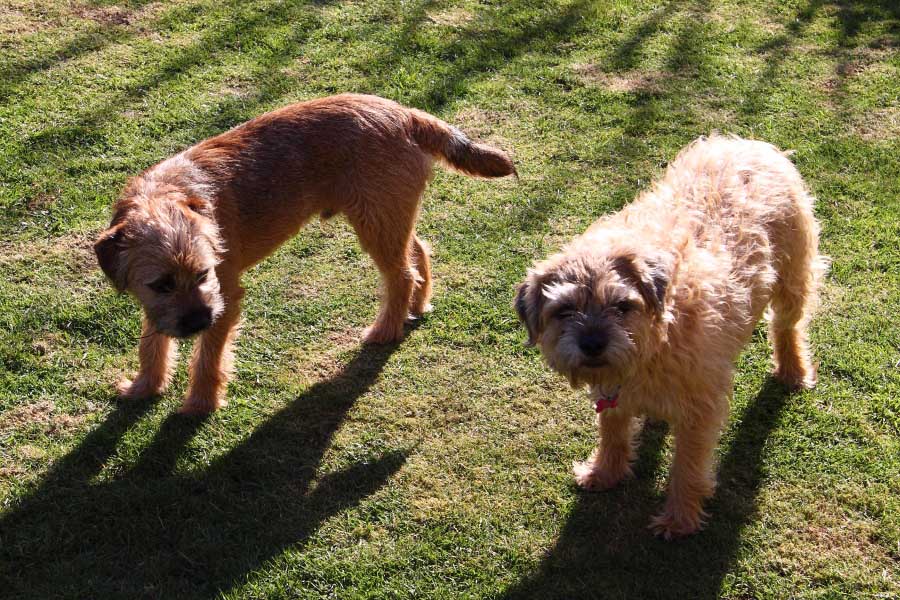 Jane and Philip complete the purchase of Rickla.
We move in on February 1st with our two Border Terriers, Rory (left) and Fern (right) who immediately make themselves at home in their 3½ acres of garden ground.
11th August 2011
---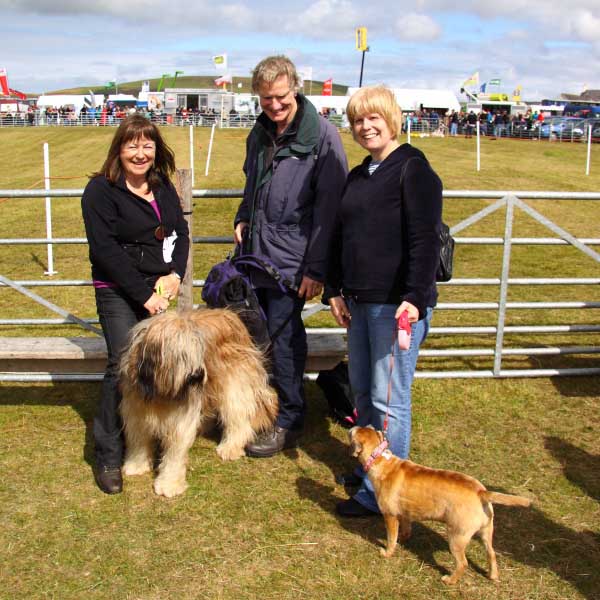 Dounby Show - August 2011.
Jacky, Stewart and Jane along with Dora and Fern at the 2011 West Mainland Show.
Earlier ...
---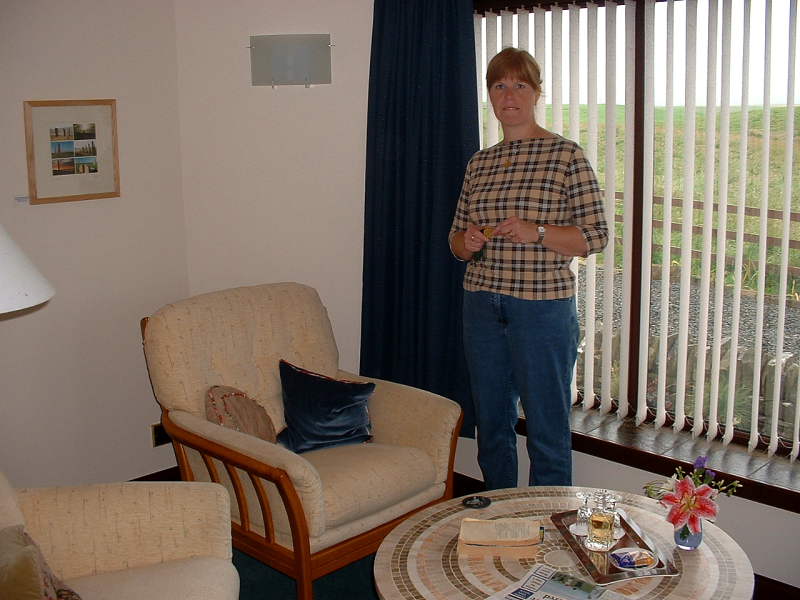 In 1995 a new house took shape alongside the old flag-roofed croft of Rickla. Unlike the croft, this new house was orientated so that most of it's windows faced south-west, where there were panoramic views over the fields, lochs and hills of the World Heritage Site. It was here that Jacky and Stewart Anderson created Orkney's first 5 star B&B accommodation and extended to provide 5 star Self Catering in 2007.
Jane and Philip Cook were regular guests at Rickla, often bringing friends with them to share in the tranquil beauty of Orkney.
Jane is seen here enjoying the sitting room of Bedroom Suite 2 in July 2004.
Telephone contact information
---

+44 (0) 1856 761575


+44 (0) 7774 131733

Please call between
09:00 &&nbsp22:00 UK local time.
Thank you.
---